Jackpot! 2 night Vegas getaway for only $99*
DESTINATION:
Las Vegas, NV
From:
$149
/ Package
Resort Preview Rate

During your vacation, you'll discover the benefits of vacation ownership and enjoy a preview of the resort.
3 Days 2 Nights
Save
$200
Resort Accomodations
$50 Visa Gift Card
$100 Dining Vouchers
Casino gaming and world's largest sports book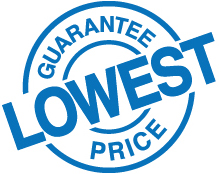 Thanks to our LOWEST Price Guarantee, you can book with confidence. We are confident you won't find a better deal anywhere else within 30 days of your purchase. If you find the same product anywhere else for less, let us know and we'll match the price and credit the amount of the difference.
Las Vegas – The Gambling Capital of the World
Centered around 24-hour Casinos in Nevada's Mojave Desert you will find the Famous resort city of Las Vegas. Las Vegas is famed for its vibrant night life and seemingly never ending entertainment! The focal point of this vibrant city is the strip located on its main street, just over 4 miles long. The strip is home to themed hotels with elaborate displays such as; fountains synchronized to music, replicas of Egyptian pyramids and the Eiffel Tower.
Whether you're a high roller or a low-key lounger, Las Vegas has something to suit your vacation taste. Sample fare from top chefs and enjoy a cornucopia of buffets. Try your luck at one of the world's premier casinos, or take in a spectacular show. You know what they say about Las Vegas… What happens in Vegas, Stays in Vegas!
Top 5 Things to do in Las Vegas
Just wandering the Strip is enough to get your heart pumping. Once you've had enough of the razzle-dazzle, wave hello to the toothy sea life at the Mandalay Bay Shark Reef, hike Red Rock Canyon, or visit the Neon Museum, where old signs take on new life. Choosing just 5 things to do in Las Vegas is tough, with the variation of culture, entertainment and dining choices are abundant In this exciting City!
Bellagio Fountains: No trip to Las Vegas would be complete without a stop at the Bellagio Fountains. The famous fountains dance to a mixed array of music starting in the early afternoon and running until late at night. During the winter months, a variety of holiday songs are shuffled into the mix of Broadway tunes, rock-n-roll hits and pop favorites.
Vegas Indoor Skydiving: Get your adrenaline pumping in a high-speed wind tunnel – at Vegas Indoor Skydiving. For every Las Vegas visit there is a good Las Vegas story, and this one adds an adrenaline-pumping adventure without the fear that often accompanies jumping out of an airplane. Highly trained staff help ease fears with lots of guidance prior flying in this controlled environment with wind speeds up to 120 miles per hour. During this adventure be sure to wear comfortable clothing; a T-Shirt, Tennis shoes and comfy pants! No experience is necessary prior to participation, and while there may be a weight requirement there are no age restrictions!
SlotZilla Zip lines- Las Vegas: The famous Fremont Street Experience has attracted visitors to downtown Las Vegas for many years. With the newly unveiled zip line that runs down the spine of the pedestrian zone provides a new way to experience a classic favorite. Ride The zip line one of two ways – either sitting 77 feet high above the street riding 850 feet down the Fremont Street or laying down super-man style, 114 feet high riding the length of 1,700 feet! If you brought personal belongings, simply place your items in a bag that is hooked on your sling while you ride. Keep in mind, the heavier you are the faster you will travel.
Conservatory & Botanical Gardens at Bellagio: This impressive indoor conservatory requires a full-time staff of more than 100 people to design, construct and maintain the themed, walk-through gardens. Live music is performed daily in the gardens. The gardens look different during the day and at night under the glass-enclosed ceiling, so if you visit during the day time and again at night time you can expect a different experience. It is free to visit the Bellagio gardens. Just down the hall from the gardens is the world's largest chocolate fountain, Stop by to check it out.
High Roller Observation Deck & Tower: The world's highest observation tower offers a view of Las Vegas that can't be found anywhere else. A ride on the High Roller takes 30 minutes to make a full rotation. Enjoy the 360-degree view, which takes in both the Las Vegas Strip and the surrounding desert scenery. A televised commentary provides information about the construction of the observation wheel as it reaches its peak height of 550 feet. Riding the High Roller at Night offers a different experience than riding during the day. Ticket prices are lower during the day, However, families can ride Saturday morning for a special price before other riders get in line. If you are traveling without the kids, you can take advantage of happy hour specials off of the bar cart, don't drink too much since there is no bathroom on board this pod.
These are just a few options for your Las Vegas vacation, there are endless possibilities and you can guarantee that each and every trip to Las Vegas will offer new surprises, new adventure and the most exciting dining and shopping experiences.
Outdoors in Las Vegas
The Hoover Dam – While In Las Vegas make sure the Hoover Dam is on your list of things to do. The Hoover Dam is an engineering marvel that draws millions of tourists each year. The Hoover Dam offers a paid tour which allows you to visit the inside of the dam; you can opt to walk across the 725-foot high dam without a tour guide for free! Visitors can also walk across the Mike O' Callaghan-Pat Tillman Memorial Bridge to enjoy a different view of the Hoover Damn as well.
Desert National Wildlife Refuge- This national refuge is Home to Mountain Ranges, Deserts and Meadow areas within a 1.6 million acre area. This is the largest refuge outside of Alaska and contains many species of birds, reptiles and mammals. Due to its size, much of this refuge is inaccessible, but there is a visitor center at the entrance of the Refuge that offers information about the area. Since this area is so isolated, come prepared to fend for yourself with lots of drinking water and protection from the desert environment. There is no cell phone service available in the vast majority of the refuge area. There are short hikes available near the visitor center, but anything beyond that requires a high-clearance or 4×4 vehicles to reach.
Red Rock Canyon National Conservation Area:  It comes as a surprise to many visitors that such a stunning natural place exists so close to Las Vegas. There is a 13-mile one-way road that loops through the park. At the highest point of the drive you will be able to view a scenic overlook. Scattered through the park you will find several trails for hiking. This is a popular place for photographers as well as people looking for a unique back drop for a gorgeous picture.
Lee Canyon- Though the Las Vegas Ski & Snowboard Resort hardly rivals the likes of Vail, Heavenly or Taos, it is still impressive that within an hour's drive of the Las Vegas Strip there is a fully functioning ski mountain. In the winter, the ski resort receives an average of 240 inches of snow each year, which guests can explore via 20 groomed trails and 30 acres of snowboarding terrain accessed with three chairlifts and one surface lift. As the area has grown in popularity, a number of development projects are creating better base lodge and locker facilities.
Dining Experiences while in Vegas
Between the 42.9 million tourists who visit Las Vegas every year and the nearly 2 million residents in the greater Las Vegas metropolitan area, they all have one thing in common — they get hungry. Las Vegas is full of restaurants to explore, new and old. With various types of food options visitors are guaranteed to find the right spot for every food craving.  Whether you need a reliable late-night restaurant, a swanky place to impress a date or the perfect restaurant for a business meeting, Las Vegas has it all
FINE DINING:
Raku- This location offers cuisine such as; Japanese, Vegetarian friendly, Gluten Free options as well as Vegan friendly choices. This restaurant is good for special occasions and romantic dinners since they offer private dining!
Andiamo Italian Steakhouse- They offer a variation of delicious entrees such as; Steak, Seafood, Italian, American, Vegetarian and gluten free options. This is an ideal location for large groups as well as business meetings.
Le Cirque- Meals at Le Cirque includes: French, Vegetarian, Vegan and Gluten free options. This is good for enjoying a scenic view on a romantic date, or for a special occasion.
Mandarin Bar- To take in spectacular & breath taking views of the city in a casual atmosphere while enjoying some popular Asian style cuisine. Check out the Mandarin Bar in the Mandarin Oriental Hotel on the south part of the Las Vegas strip.
CHEAP EATS:
Mama's- Although this is a little drive away from the main strip, this place has visitors and locals buzzing about the generous portion sizes and friendly wait-staff. This American restaurant offers Breakfast, Lunch and Brunch! Stop in for their famed French toast and pancakes before heading out for a day in the city.
The Egg and I-If you had a late night, or just enjoy sleeping in and you missed breakfast, head to this simplistic style restaurant for a plentiful Brunch. Not only are the dishes yummy, the prices are also very reasonable for budgets of every kind!
Bruxie- Looking for quality food without the high price? Stop in at Bruxie, they have an awesome selection of kid's meals at a value price! The Holy Grail Waffle sandwich(Juicy, succulent chicken wrapped in a warm fluffy waffle) has a lot of visitors raving and giving fantastic reviews. For a quick bite, great value and personable staff this is a must try restaurant while in Vegas.
Seasonal Packing tips for Las Vegas
Pack clothing for a variety of weather conditions including extremely hot weather, if traveling during the summer months. Temperatures in the high deserts from June through September routinely hit 100 degrees during the peak daytime hours. The months of February, March and April offer the most moderate temperatures, averaging 70 to 80 degrees. Lightweight light-colored clothing reflects the sunlight and helps in keeping cool. Avoid packing dark clothing, even when traveling to Nevada in winter months. Nevada means "snow-covered" and the winter months feature snow sports. Pack gloves, boots and a warm hat for cold weather use.
Head Coverings- Scarves and hats are necessary items, if any outdoor activities are planned. Large golf umbrellas assist in keeping ultraviolet rays from the face and arms, even when off the course. Packing at least one UV-blocking cloth hat, with a wide brim, is also recommended.
Sunscreen- Regardless of the season, sunblock and sunscreen are recommended items. Lotions with a minimum rating of UV-15 to protect the face, ears, and exposed limbs should be packed.
Sunglasses-Pack sunglasses with extremely dark lenses to protect the eyes. The reflected sun from the sand in remote areas and from pavement in the urban centers can be intense. If participating in summer water sports or winter skiing, sunglasses are a necessary item.
Lip Balm– The winter weather in Nevada is dry. Lip balm will keep lips from chapping. Select a balm with protection against ultraviolet rays for additional safety.
Light Jacket- With the exception of evenings during the summer months, the night temperatures frequently require a light jacket for comfort, even when the weather during the day is warm. The temperature tends to drop quickly in the desert, so bring a jacket, even if it doesn't seem like you will need it.
Charge cards and discount coupons- Most services in the cities of Nevada operate using plastic, even the slot machines. Research discounts offered to out-of-state visitors in Nevada. Hotels and casinos frequently provide discount coupons good for lodging, food and gaming.